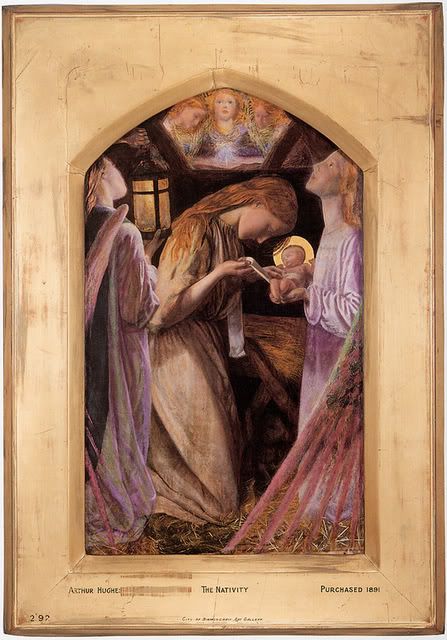 Arthur Hughes, "The Nativity" (1858)
mary gave birth to Truth so that the Truth might be made universally incarnate in us.

until the event of Truth is universally incarnate as History, nothing is Whole (adorno: "the whole is the false").

Truth must be realized in order to be Whole, therefore we must give birth to Truth.

mary is the last moment before the initial realization of Truth. mary realized that she was nothing and thus she was set free to be the event of the birth of Truth: the one whose heart had the fecundity of virginity and the purity of motherhood. but beyond mary's insight, one must realize that the consummation of the nothing is Truth and that the Truth is not-other to the nothing. this is incarnation.

today, we too fail to grasp the possibility of the Whole-of-History (Peace). but perhaps like mary we can realize that we are nothing ("let it be done to me as you will") and thus be the site in which Truth is born. therefore let us be the nothing out of which the Truth creates History.
-LoA