And it came to pass in an eveningtide, that David arose from off his bed, and walked upon the roof of the king's house: and from the roof he saw a woman washing herself; and the woman was very beautiful to look upon. And David sent and enquired after the woman. And one said, Is not this Bathsheba, the daughter of Eliam, the wife of Uriah the Hittite? And David sent messengers, and took her; and she came in unto him, and he lay with her; for she was purified from her uncleanness: and she returned unto her house. And the woman conceived, and sent and told David, and said, "I am with child." And David sent to Joab, saying, Send me Uriah the Hittite. And Joab sent Uriah to David. And when Uriah was come unto him, David demanded of him how Joab did, and how the people did, and how the war prospered. And David said to Uriah, Go down to thy house, and wash thy feet. And Uriah departed out of the king's house, and there followed him a mess of meat from the king. But Uriah slept at the door of the king's house with all the servants of his lord, and went not down to his house. And when they had told David, saying, Uriah went not down unto his house, David said unto Uriah, Camest thou not from thy journey? why then didst thou not go down unto thine house? And Uriah said unto David, The ark, and Israel, and Judah, abide in tents; and my lord Joab, and the servants of my lord, are encamped in the open fields; shall I then go into mine house, to eat and to drink, and to lie with my wife? as thou livest, and as thy soul liveth, I will not do this thing. And David said to Uriah, Stay here today also, and tomorrow I will let you depart. So Uriah stayed in Jerusalem that day, and the morrow. And when David had called him, he did eat and drink with him; and David made him drunk: and at even he went out to lie on his bed with the servants of his lord, but went not down to his house. And it came to pass in the morning, that David wrote a letter to Joab, and sent it by the hand of Uriah. And he wrote in the letter, saying, Put Uriah in the forefront of the hottest battle, and withdraw from him, that he may be smitten, and die. And it came to pass, when Joab observed the city, that he assigned Uriah unto a place where he knew that valiant men were. And the men of the city went out, and fought with Joab: and there fell some of the people of the servants of David; and Uriah the Hittite died also. Then Joab sent and told David all the things concerning the war; And instructed the messenger, saying, When you have made an end of telling the matters of the war unto the king, if the king's wrath arise, and he says unto you, Why did the army approach so near unto the city when we did fight? doesn't everyone know that they would shoot from the wall? Who smote Abimelech the son of Jerubbusheth? did not a woman cast a piece of a millstone upon him from the wall, that he died in Thebez? why went the army nigh the wall? then say you, Thy servant Uriah the Hittite is dead also. So the messenger went, and came and shewed David all that Joab had sent him for. And the messenger said unto David, Surely the men prevailed against us, and came out unto us into the field, and we were upon them even unto the entering of the gate. And the shooters shot from off the wall upon thy servants; and some of the king's servants be dead, and thy servant Uriah the Hittite is dead also. Then David said unto the messenger, Thus shall you say unto Joab, Let not this thing displease you, for the sword devoureth one as well as another: make thy battle more strong against the city, and overthrow it: and encourage him. And when the wife of Uriah heard that Uriah her husband was dead, she mourned for her husband. And when the mourning was past, David sent and fetched her to his house, and she became his wife, and bore him a son.

II Samuel 11.2-27 (original court history, c. 961 B.C.)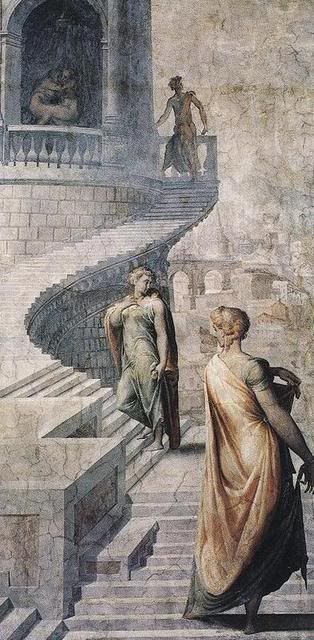 Cecchino del Salviati, "Bathsheba Goes to King David" (1554)

One wonders what Bath-sheba thought when the king stared shamelessly into her bath. What did she think when he requested her presence at his palace. Did she resign herself; did she protest; did she seize upon it as an opportunity; did she embrace him with passion, alive in the rush of heat and power. What must she have thought of him when he sent her away the next morning. How did she tell him she was pregnant. What did she fear (or was it hope) would happen; a plea for her life to the man who had put it in danger to satisfy himself, even though he could have had any woman, and had many to choose from within his own house. Was that pride or pleasure or shame which she carried in her heart. What did she feel when the king had her husband murdered, along with so many others. When he married her. Did she laugh or weep in private. When she lost her child. Did she rejoice in the political instability that followed his sudden marriage to this pregnant wife of a foreigner, or regret it for his sake. For the sake of her future. How she must have smiled to the king's face in order to promote her son, Solomon, to protect him against the king's other children. And when the king died, with another young woman in his bed, what did she feel.

We will not know, because no one bothered to ask her.

But let us not take this silence as a final word. Even in silence she speaks. Hegel taught us that every attempt to enforce a boundary is an admission of defeat because it secretly recognizes that the boundary it builds can be crossed. If it could not be crossed, there would be no point in defending it. The enforced silence of Bath-sheba is broken at the very point where her silence is inscribed by historians. At precisely that moment Bath-sheba screams with a voice that demands to be heard, insists on her own legitimacy and ends, upon her own humanity. Insists that she is more than the wife of Uriah, more than the king's legitimized whore, and more than the mother of a king. Her silence speaks of the inability of the official history to silence Bath-sheba for she also is a member of the Whole. It reveals the weakness of those who thought they owned her, used her, traded her and conquered her. Her voice echoes as loudly now as it did through the halls of a king's palace. Only, we can no longer pretend we do not hear her.

-LoA