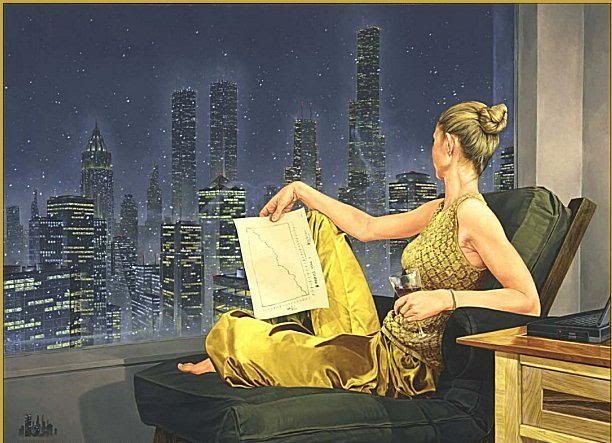 Bryan Larson, "Just the Beginning" (2001)
in the end, dalí proved to have a better grasp of surrealism and what it was than did breton and the others who were at the origins of the movement. they fantasized it as a force of liberation to be aligned with communist political aims. to breton and the others, surrealism's attempt to thematize the unconscious, to bring to light those dark drives which were hidden from humanity, was going to somehow free that humanity.
but as dalí saw, when others did not, the unconscious was not a haven of paradise where the edenic humanity could be rediscovered in all its natural glory. the irrational was not salvation from an increasingly rationalized world, rather, what was being uncovered by surrealism was the anglo and continental unconscious (for lack of a better term) which was never absent from the conscious drives of technological expansion and domination of the world (both as industrialization and colonization), was never absent from any act, no matter how mundane, decadent or benevolent. thus the surrealists were not showing the way to the future, but were merely revealing the truth of the present: the unsaid in everything that persons, society, and culture did.
it is not surprising, then, that freud was impressed by dalí upon meeting him. dalí alone of the surrealists had understood him: this was freud's assessment; and it was dalí alone who could make him reconsider surrealism as something more than art without understanding.
dalí's understanding has indeed been vindicated by the fact that the anglo and continental culture was able to absorb surrealism so easily and make it part of its cultural currency. and dalí was glad to be its superstar, while never forgetting that he was merely returning our own shit to us for us to enjoy: the scatological innards of that which the ego always presents with a clear and shiny face.
-LoA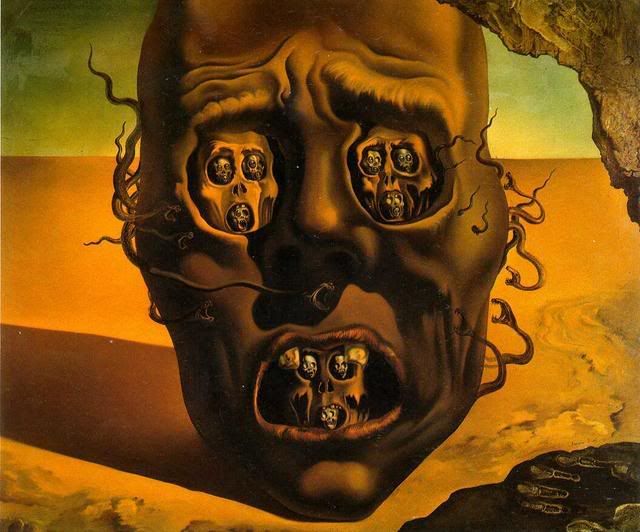 Salvador Dalí, "The Visage of War" (1940)
10
Memory says: Want to do it right? Don't count on me.
I'm a canal in Europe where bodies are floating
I'm a mass grave I'm the life that returns
I'm a table set with room for the Stranger
I'm a field with corners left for the landless
I'm accused of child-death of drinking blood
I'm a man-child praising God he's a man
I'm a woman bargaining for chicken
I'm a woman who sells for a boat ticket
I'm a family dispersed between night and fog
I'm an immigrant tailor who says "A coat
is not a piece of cloth only" I sway
in the learnings of master-mystics
I have dreamed of Zion I've dreamed of world revolution
I have dreamed my children could live at last like others
I have walked the children of others through the ranks of hatred
I'm a corpse dredged from a canal in Berlin
a river in Mississippi I'm a woman standing
with another woman dressed in black
on the streets of Haifa, Tel Aviv, Jerusalem
there is spit on my sleeve there are phonecalls in the night
I am a woman standing in line for gasmasks
I stand on a road in Ramallah with naked face listening
I am standing here in your poem unsatisfied
lifting my smoky mirror
1989-1990
Adrienne Rich, #10 from "Eastern War Time",
An Atlas of the Difficult World: Poems, 1988-1991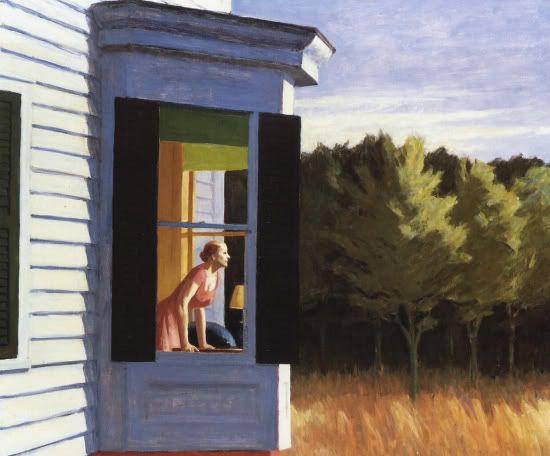 Edward Hopper, "Cape Cod Morning" (1950)