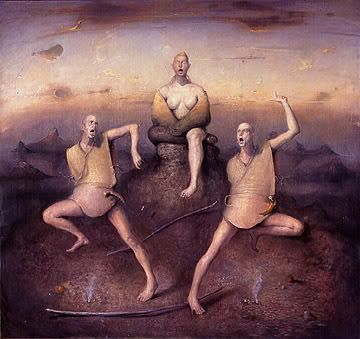 Odd Nerdrum, "One Blind Singer and Two Dancers" (2001)
What's next?
I will grant that the comparison between the ideology of the revolutionary movements present in the Middle East to post-WW2 Communism is an improvement. It is at least a better comparison than the
poor comparison to fascism
. At least Communism was transnational in its own self-description. And certainly, Mao and Stalin destroyed their countries in the mid-twentieth century, murdering freely, imprisoning arbitrarily and generally using fear and power to extend their rule. Their programs of national reform destroyed the heritage of their people. And Mao and Stalin had just about as much in common with Marx as the Taliban (for instance) does with most practitioners of Islam: each tyrant twisting the words of a prophet to justify the deaths of any and all who disagree with them.
But the fact that one day the Islamic terrorists can be fascists and the next day they are communists, one day the Nazis, the next day its a Red Islam (not that Shariati minds), makes clear the extent to which the rhetoric is just that: rhetoric. Bush and company are no closer to understanding who and what they are fighting against today, than they were the day before or will be tomorrow. As with all good Islamophobia, the rhetoric is not meant to identify the enemy so much as rally public opinion into a cohesive and deadly force. Bush and company are grasping at straws, desparately comparing their enemy to enemies of old in an effort to contain them, comprehend them and make the American people understand why Islam is such a threat to America (not the "good Muslims" of course. *wink, wink*). Its a major victory if government policy makers can tell you the difference between Sunni and Shia, let alone the differences between an Al Qaeda and the Muslim Brotherhood.
And finally, one must ask, will we allow our country, our governments to kill in the name of its own idols? Has the fanaticism of Bush been less deadly? The Goddess of Democracy has been the justification for the destruction of Iraq, and many within our government would to build a new Temple to her in Iran as well. Her hands are red with blood and her priests are calling out for more victims.
-LoA