of course we know that it never really was, but nonetheless, liberals are typically more sly about it. i have lost count of how many times these "liberal" yankees have told me how intolerable it would be for them if they had to live in the socially backwards south, but who don't lose sleep as the supreme court of the state of connecticut repeatedly instructs the city of hartford (*ahem* state capital) to desegregate their schools. not to mention how many connecticut cities drug their feet and openly resisted the idea of a martin luther king jr. holiday. but enough of that little rant...
from two noted liberal cartoonists...
i have to say, when even democratic cartoonists are painting clinton and her supporters as man-hating, it is hard to imagine her winning the overall election. other than the stereotypes of the mis-andrist t.v. viewers (i.e., women who do not conform to societal canon of feminine beauty and are unable to keep/attract a man), one can also note the angry sneer on clinton's face.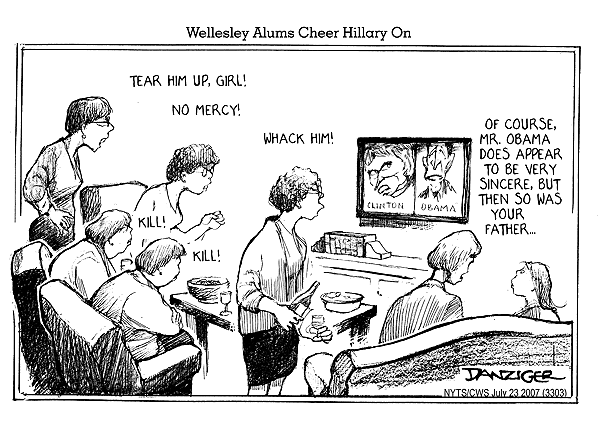 Jeff Danziger, 23 July 2007
Meanwhile from someone who is typically one of my favorite political cartoonists (I love the little guy who adds commentary), evidence that China bashing is totally chic at the moment...oh, and a swipe at Confucius while we are at it.
Pat Oliphant, 24 July 2007
-LoA