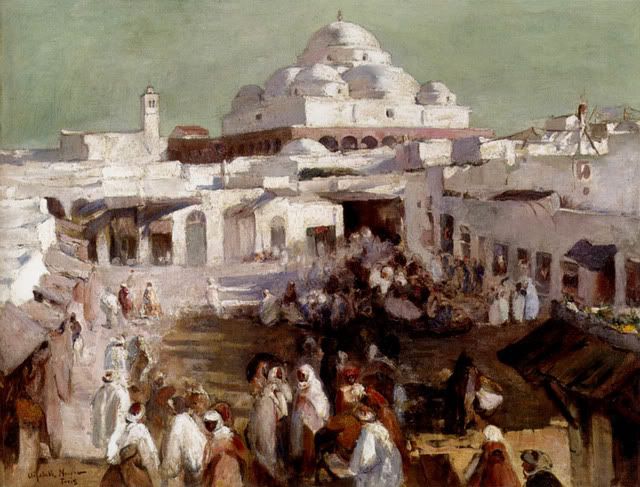 Elizabeth Nourse, "The Mosque, Tunis" (1897)
It is widely observed that Elizabeth Nourse's portrayal of women in real social settings marked a break with her contemporaries, especially men such as, her mentor, Jules Joseph Lefebvre. In Lefebvre aestheticism combined with the male gaze to produce abstract portraits of mostly nude women, absent any setting, without meaning, emptied of their content and of their very person. This allowed the female form to be taken in solely as an object of pleasure. Nourse's women, on the other hand, usually existed in household scenes, often with their children, in a manner that resisted the easy reification of the female body for the male viewer because they were embedded within social narratives that affirmed their vitality and humanity.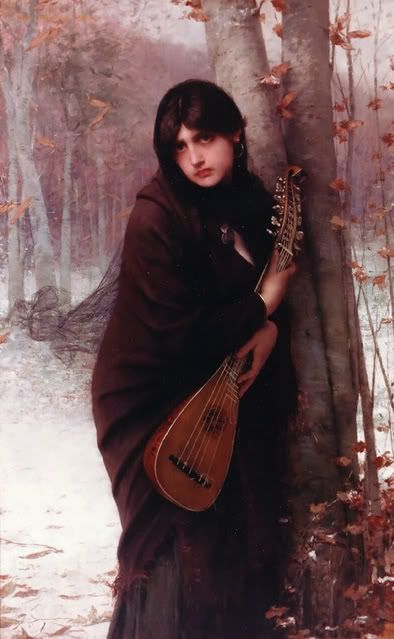 Jules Joseph Lefebvre, "Girl with a Mandolin" (late 19th c.)

I would like to suggest that we should read Nourse's "The Mosque, Tunis" in a similar fashion, once again against the tendency of the Orientalist tradition of most of her colleagues. If one takes her near contemporary Gerôme as an example one quickly sees the extremely dis-integrated vision of Arabia that he possesses. Apart from his fantasies of the Oriental harems and a few pictures of prostitutes, Gerôme's Arabia is nearly absent of women, revealing the extent to which the Orient was a playground for the European male's imagination of exotic and rampant sexuality. There are likewise portraits of isolated men: guards, merchants, traders, soldiers, or rulers. And finally there are a set of paintings that focus on Islamic prayer. These are particularly noteworthy relative to our theme as one compares Gerôme's vision to that of Nourse. Gerôme's pictures are either tightly framed or enclosed within the interior of the mosque which provides a backdrop to emphasize the alien nature of the event to the European viewer. He fails to make any connection between these religious acts and any other aspect of the society which he is "realistically" portraying, just as he fails to integrate the persons, both male and female, into their society. These are isolated objects, commodified persons and events packaged for easy consumption and playing to the tastes and expectations of the viewer.



Jean-Léon Gerôme, "The Call to Prayer" (1866)


Nourse's painting operates at a much different and more ambitious level than any thing Gerôme dared attempt. She encompasses a much fuller breadth of Islamic society within one vision and likewise understands the direction or goal that provides the interior dynamic to social life. A large group of people are portrayed going about a variety of tasks, men and women, spread throughout the square, walking to different parts of the city, as the larger city looms behind the market. Over it all, the mosque draws one's focus from the market higher toward that which stands at the center and pinnacle of the social and political life of its inhabitants and defines the rhythms of their day.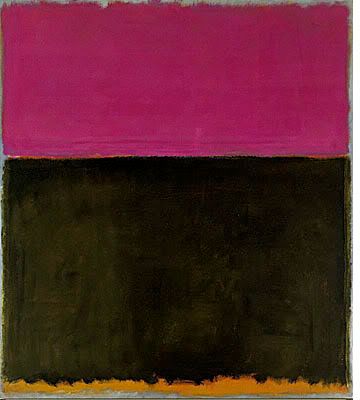 Mark Rothko, Untitled (1953)
And just as she produces a picture of an integrated society, she also integrates her use of color into the overall purpose of the painting. One is led upward from the darkness of the lower corner to the height of light. The painting is essentially organized into three fields of color. The lower right corner ranges from very dark to earth tones (this placement of the market within shadow is itself possibly a bit of critique). The top third is a gray-blue sky that extends as one long band. Finally one is led by the light strip at the far left out of the dark shadows of the market upwards through the city until the dome of the mosque pierces through the gray and into transcendence over everything else. The transcendence of the mosque is only emphasized by what might count as a fourth field of color, the small band of pink stone that secures the preeminence of the mosque over all else. In this way, while the concrete content of the painting provides the panorama of an integrated world, it is the use of color itself that provides the narrative direction. Here, Nourse anticipates not only the social realist movement (for which she is often given credit in her paintings of women), but in her use of vast fields of color to invoke the movement towards transcendence she likewise anticipates later abstract expressionists such as Rothko.

-LoA



Elizabeth Nourse, "The Sewing Lesson" (1895)