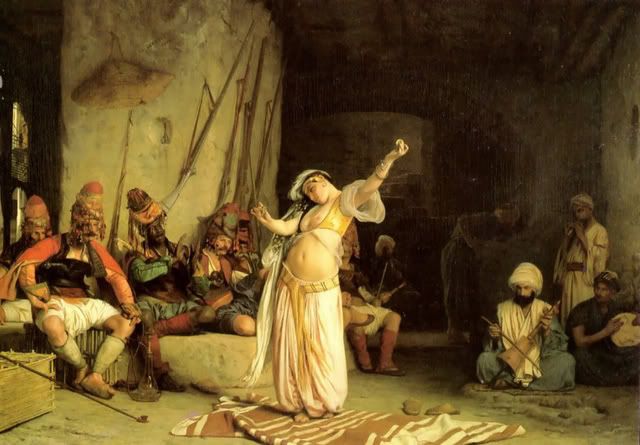 Jean-Leon Gerome, "The Dance of the Almeh" (1863)


First Delacroix and then his protege, Jean-Leon Gerome, had set the standard for orientalism in the first two thirds of the nineteenth century. What had begun as curious perusals of Arabians and Indians (both Asian and American) in Delacroix, had been elevated to the level of masterpiece size interpretations of Arabia. It was thus no surprise that as the French and English political bodies delved more deeply into this unknown world, painters, fascinated by the stories and colors of the orient turned to Gerome, not only for instruction and guidance but, as the rule by which to judge their own achievements.

And Gerome was indeed a challenge to live up to. Arabia opened up to him and he rendered that Arabia from vantages that had never been seen before: portraying private worship (especially a number of Cairo scenes) both in and outside mosques, the interior of royal courts, and topping Delacroix's lonely odalisques, Gerome was granted entry into the sanctuary of the harem and the baths. These scenes were alive with color and charged with barely contained energy and sexuality. Gerome's Arabia was an exotic and erotic playground for the European imagination. Even as Rousseau had argued for the beauty of a more natural world a generation before, Gerome was portraying the European vision of what nature would look like, absent the civilizing impulse.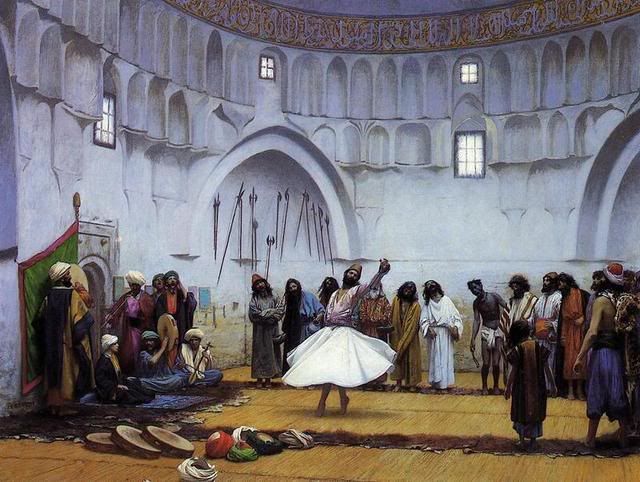 Jean-Leon Gerome, "Whirling Dervishes" (1895)


This visual claim to have laid the Arabian world bare was a key element of Gerome's success. But it was largely a lie. As i have argued before, Gerome does not really grasp Arabia as a whole, but instead divides it into easily consumeable bits, isolated realities that lack a historical or social context. This trend would be followed by the next generation in painters such as Mowbray who unabashedly lays out the orient as a fantasy world lacking depth.



Henry Siddon Mowbray, "Oriental Fantasy" (1887)


The Bostonian, Edwin Weeks, was also among those who sought to learn about the orient and its portrayal from Gerome, but a painter can only learn so much sitting in the studio. So after a time with Gerome and Gerome's close friend Leon Bonnat, Weeks and his new wife decided to venture into Arabia, beginning with Morocco in 1878-79. Weeks rapidly realized they had entered a place which "Gerome had never rendered": confronted by disease (his own and others), famine and hostility, Weeks' work would never be the same.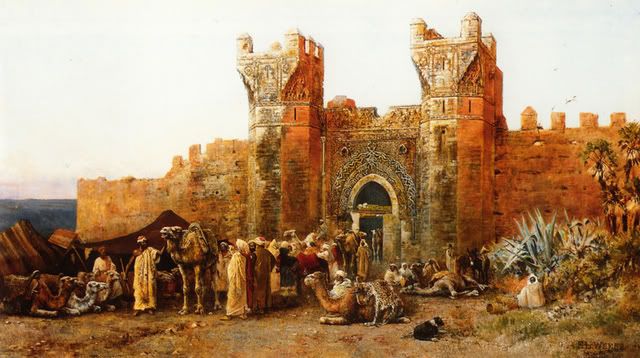 Edwin Lord Weeks, "The Gate of Shehal, Morocco" (1880)


There is something about Weeks' body of work which reveals that he understood he could not lay bare this world to which he was so totally a foreigner. It begins with the modesty with which he described his work. He was a colorist, not an orientalist. He was not someone who could expose the orient to the viewer no matter how long he travelled there (and he did spend a good deal of the remaining twenty years of his life traveling through Persia and colonial India). He demonstrates this both positively, through his chosen subjects and negatively, by what remains unpainted.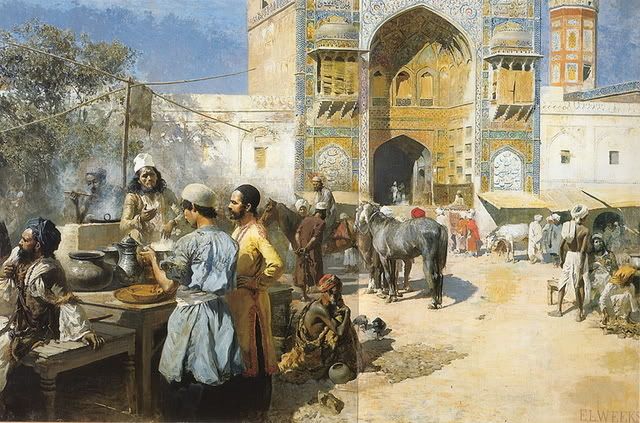 Edwin Lord Weeks, "Open-Air Restaurant, Lahore" (1889)


On the one hand, Weeks generally approached his oriental subjects from the exterior. Weeks has market scenes reminiscent of Gerome's time in Cairo, but also palaces that are viewed from their courtyards, or from outside their walls, and heads of state, but only as they travel through the city. This self-enforced vantage point can be seen in two of Weeks' paintings of the mosque at Lahore. In the first, "Riders in front of the Mosque in Lahore" there is a gathering of men around the steps of the mosque. They are immersed in conversation, some of them moving either into or out of the mosque itself, others sitting in the sun and of course the gathering of riders. The European viewer toward whom the painting is directed is not granted the intimacy of entering this circle; one is neither included nor given clues about what the gathering portends. One is outside, not only the circle of men but the world itself. The mosque towers above, leaving the top edge of the canvas in a manner that suggests its overwhelming character. In the second painting, "An Open-Air Restaurant, Lahore", Weeks places the viewer in a more accessible setting. The need for food, cooking and selling, are all realities the viewer can make sense of, but once again, the mosque still looms in the background. Weeks emphasizes that even with the help of greater perspective, a touch-point in something recognizeable, the mosque, and all it symbolizes, is still uncontainable by his gaze, and it once again overwhelms the viewer in its majesty. One cannot completely grasp the world one has entered here, and Weeks refuses to provide the illusion that one can.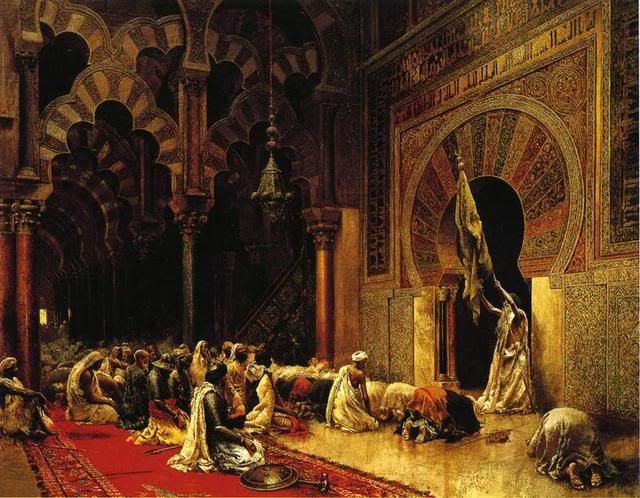 Edwin Lord Weeks, "The Interior of the Mosque at Cordova" (1889)


The exceptions to this general practice by Weeks only confirm this idea. Weeks' great mosque interior, which shows men at prayer, is "The Interior of the Mosque at Cordova". Here a few things must be pointed out. First, Weeks chooses to render the interior of a mosque that is on European soil. And while the painting is historical in its content, the title is minimalist. Weeks uses the title to call attention only the mosque interior, reminding the viewer of the history of the building now known in another form. His historical renderings of the Moorish period in Spain, of which the mosque at Cordova is a part, show him willing to enter into hypothesis concerning the interior of Muslim life only at the point in which that life overlapped with European history. And there is no better icon of that overlap than the mosque at Cordova as his viewers would have well known. The historical scenes he renders must be set between the 10th and 11th centuries for once the Christians re-occupied Cordova, the mosque itself was transformed into the city cathedral. Moreover, when need for a larger cathedral arose, they built a magnificient gothic structure that rose dramatically out of the center of the mosque, melding Christian and Muslim architecture and history together in a unique manner. Here is a place, if there is such a place, says Weeks, where one can enter into a mutual understanding with Islam because Europeans share in this moment as a piece of their own history. There is a part of this story he has the tools to understand and render.

This brings us to the final point concerning Weeks' modesty. Unlike Gerome's work, Weeks' is striking in the lack of harems, baths, prostitutes, courtesans, and even the interior of royal courts with the fanciful animals that Gerome portrayed. This cannot be attributed to lack of access. As Weeks notes, the Muslim world was so open and friendly to his arrival in northern colonial India that he had to flee his friends in order to get work done. They showered him with models (human and animal) to paint at his request, to the point where it was necessary to hide to get them sketched and painted. Weeks' decision then is a conscious one. The drama of the private lives of the men and women of the orient were, once again, mysterious to him - not in the manner of being something fantastic, but in the sense of having their own ethic and language in which he could not pretend to be fluent. These were pieces of a puzzle that Gerome had been content to take individually, but which Weeks recognized as part of a whole which he, as yet, could not see. Their lives were not the stuff of European exoticism, but had a reality and depth that Weeks did not know how to penetrate and about which he refused to lie. As he expresses again and again in his paintings, Weeks knew he was standing at the exterior and that the exteriority must remain; there had to be modesty, if there was ever to be a real intimacy of understanding.

-LoA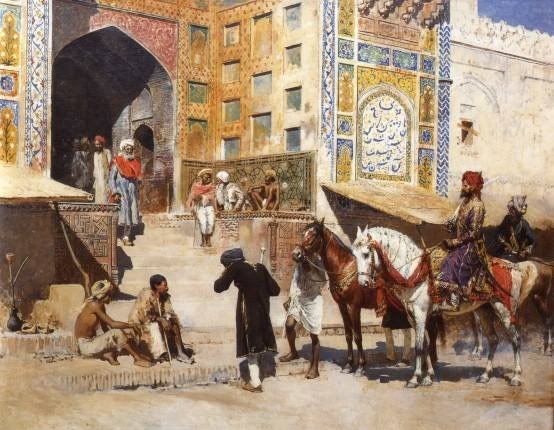 Edwin Lord Weeks, "Riders in front of the Mosque at Lahore" (1889)