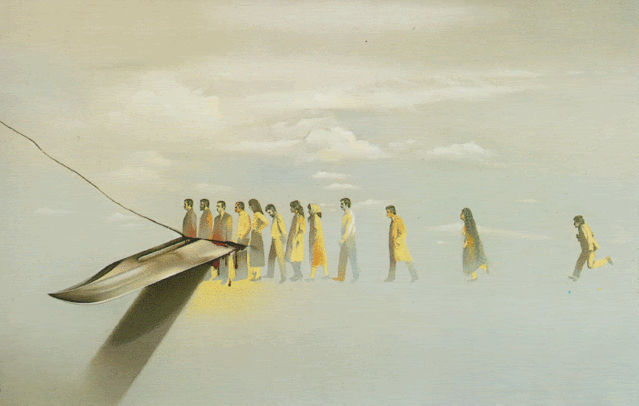 Morteza Katouzian, "Destiny" (xxxx)
destiny is the comforting weight of one's being, and resists the grasp of height. it asks that one give oneself over to the rootedness of what one is and find the full meaning of one's existence in that and in those, who like oneself, grow from the same root. it allows one to keep one's feet and know who one is. to resist even the staggering vertigo that one might feel at the realization of one's own inexplicable weightlessness, the feared-inability to keep one's grip. in destiny, one asserts, against the spinning vertigo, that one belongs to the earth: to blood, soil, culture; one is purely organic. one is thus assured of the solidity of one's life and its purpose; there are roots to provide one a destinal site in which to unfold. but this is little more than to glorify one's animality, which in a rational being is barbarity, as utopia.
the grasp of height is indeed a call, but it does not comfort one in the naturalness of one's humanity. it does not allow one solace in the organic nature of blood or language; there is not the peace of having a destinal space or a fate. the grasp of height uproots and calls us to be more and other than we are, to be more than our being would allow. height rips us away from everything comfortable to our nature and leaves us weightless: in an ek-static nothing beyond all being.
-LoA