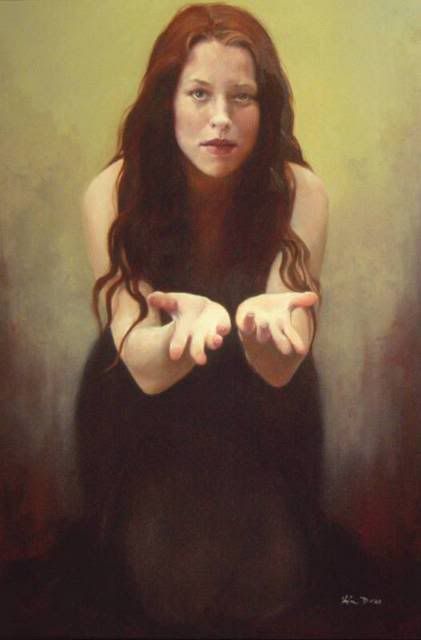 Kimberly Dow, "Charity" (2006)
nudity combines within itself starkness and the voluptuous. this is to say that there is a blinding depth to the human person which is attached to the body. the attempt to separate them is sin: either as a militant war against the body in the name of purity of spirit (mortification), or as a gross consumption which impossibly attempts to reduce the self to fleshliness (decadence). what is truly revealed by the removal of clothing, enacted before the beloved, is that modesty is essentially attached to the body and cannot be overcome, even in an act of violence. the intimacy one has with the beloved is that they recognize this truth.
it is certainly true that fashion is the public language by which we interpret persons with respect to their sex, their gender, their public role, their sexuality, etc. the freedom to remove this before another is the freedom to be have someone recognize the extent to which you are inevitably hidden.
fashion is no mere outward sign. even in nudity, as we lay aside the clothes-of-the-day, they remain attached to us, drawing attention to themselves in their absence. precisely insofar as we find ourselves alienated from society, it will be consciously present to us, invading intimacy.
the role and promise of lingerie is this: that social conventions of sexuality will remain attached to her person. they want the acknowledgement that this interpretation of sexuality remains attached to her even in her nudity. to undress will no longer be an act of rebellion against the society which alienates us from ourselves, but a submission to it. intimacy will be a public act, even when alone. it is transformed into the ritual of eroding the distinction between the self and society.
despite all these failures we continue to pursue intimacy with the beloved because it is there that one finds hope that there will have been Peace, that somehow, everything can be reconciled.
-LoA